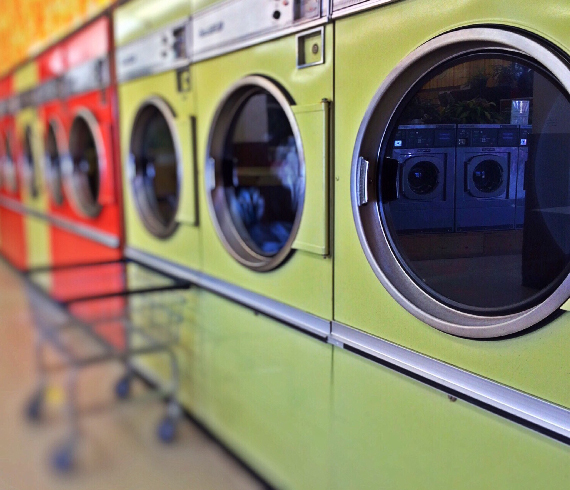 The UK firm believes other sectors could benefit from its technology too
Pilita Clark, The Financial Times
It is not every day you come across a sebum cloth or, to be precise, a piece of cloth soaked in artificial sebum, the body oil that causes irksome dark smears on the inside of a shirt collar.
But here inside Xeros, the nine-year-old English company reinventing the washing machine, there are yards of the stuff, along with more fabric deliberately stained with blood, wine and other laundry disasters.
"Body oil is the vast majority of soiling in a load," explains Frazer Kennedy, the company's technical services manager, as he pulls out an array of carefully filthied cloth that Xeros buys in to test how well its machines can clean, at its headquarters in a quiet high-tech manufacturing park in Catcliffe, near Sheffield.
"You can see the difference," says Kennedy, rolling out a piece of stained cloth that has been through the Xeros machine behind him, and another bit washed in a conventional machine across the room.
And you can. The stains on the Xeros-washed cloth are clearly far fainter than those on the other, even though both machines look pretty much the same to the naked eye.
The Xeros one is not like any of its rivals, however, as Kennedy demonstrates by turning one on.
It is a big stainless steel machine, the sort used in commercial laundries, and is the only type in Xeros's range as yet. At first the machine behaves normally enough: a little water is squirted on to a load of white laundry, to which detergent has been added.
Then it does something peculiar: it pours a slurry of water mixed with hundreds of thousands of small, hard, white nylon beads over the clothes and tumbles the lot around in the drum.
Each bead is approximately the size of a large grain of rice. The mechanical action of the beads swirling around the clothes gently loosens dirt, much like the oldest form of washing — whacking wet clothes on a rock by a river.
The molecular structure of the deceptively simple-looking beads — the product of years of research — means they also absorb stains.
All this gets done without the clothes being left soaking in dirtied suds, as they are in most normal machines. "It's like having a shower, whereas a conventional washing machine is like a bath," says Kennedy.
That is part of the reason why clothes come out cleaner explains his boss, Xeros chief executive Bill Westwater, a former brand management executive who has worked at companies such as Procter & Gamble, the consumer goods group, where he was responsible for Ariel detergent in China.
Replacing much of the water used in a washing machine with Xeros beads means water use can be cut by up to 80 per cent, says Westwater.
That is important in places where water is expensive, he adds, pointing to figures on dozens of countries where water costs more than $1 per cubic metre.
The technology also allows laundry to be washed with less detergent at lower temperatures, which cuts energy bills
The beads can be used for hundreds of washes before they need to be replaced and Xeros says it has a system to collect the beads and sell them to manufacturers of other goods, such as car interior components.