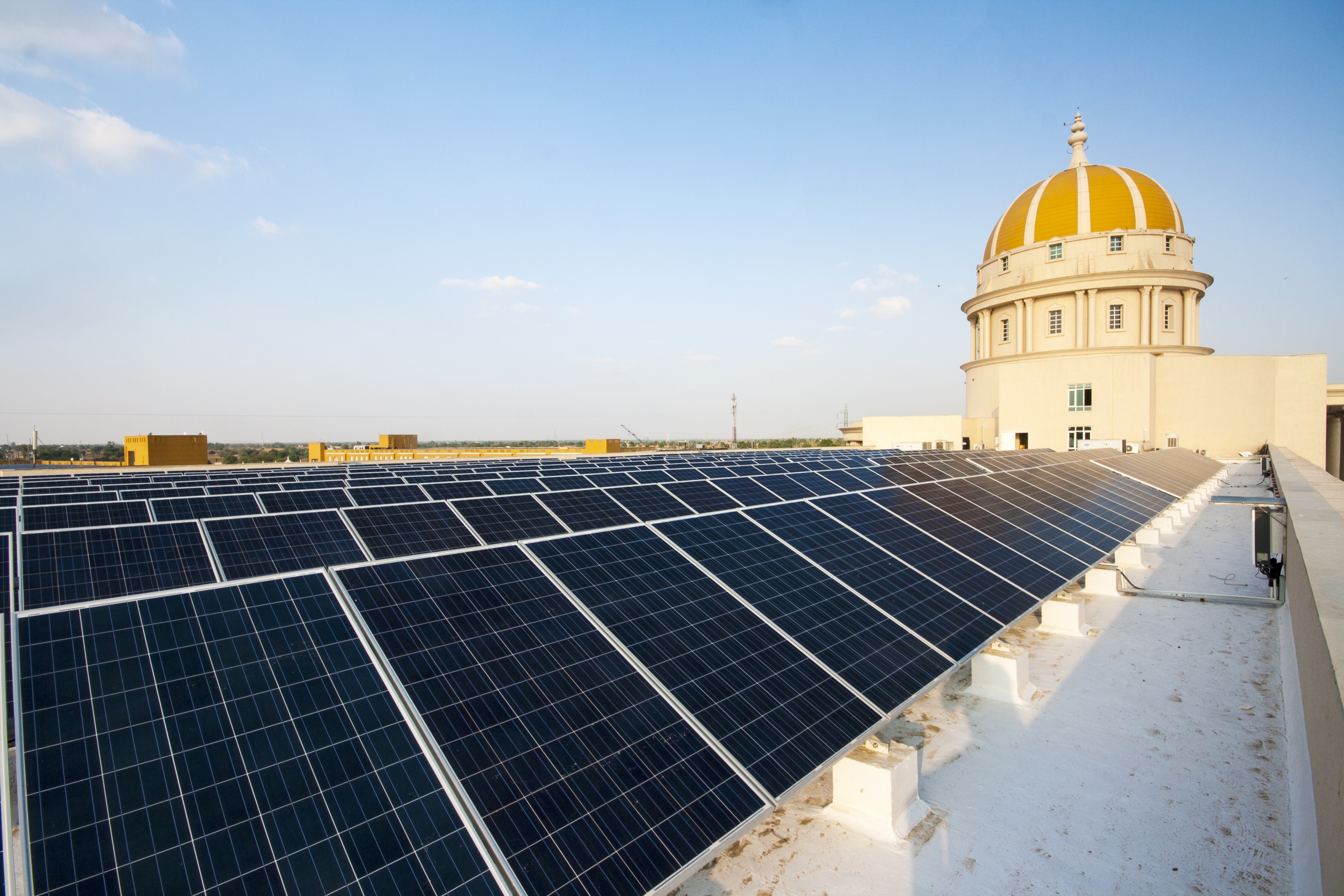 Here Comes the Sun
A number of recent developments have made solar energy the smart choice for public and private buildings in India.
March 2012 witnessed the first commercial solar rooftop project in India when the US company SunEdison put a 100 kW solar plant on the roof of a building in Chennai owned by Standard Chartered Bank. Under the terms of the project agreement, SunEdison would own the rooftop plant and sell electricity to StanChart at around Rs 11 per kWhr (about 20 cents per kWhr at the 2012 exchange rate). That price was well above what StanChart could have paid for power from the state-owned utility, but burnishing its image as a good corporate citizen outweighed financial concerns.
Today, similar contracts are signed for Rs 5 per kWhr (about 8 cents per kWhr), reflecting the steep decline in the price of solar modules. What began five years ago in a spirit of social responsibility has now become economically viable as solar energy becomes cheaper than grid power. Companies are also attracted by what has come to be known as the "opex model"; like StanChart, they simply buy power from a vendor who owns the solar installation on their roof, thus replacing a capital expenditure with operating expenditures.
India has set a target of achieving installed capacity of 100 GW of solar power by 2022, 40 per cent from rooftop solar and 60 percent from ground-mounted panels. To date, there are 1.3 GW of the former and 14 GW of the latter. A new crop of solar companies has emerged to boost these numbers: CleanMax Solar, Amplus, Aspiration Energy and Solar Town are some of the biggest players.
All deliver "solar-as-service"; as Andrew Hines, co-founder of CleanMax Solar, explained, large companies may not have enough money to put up rooftop solar modules on their own, or if they do, they may not want the risk of this capital expenditure. "There will always be someone in the board who will poke holes in your proposal," he said. "But if you tell the company, 'Just let us use your roof and we will sell you energy at a price that is less than that of grid power,' they have a hard time poking holes in that proposition."
The pitch worked with Mahindra Research Valley (MRV), the research-and-development arm of the Mahindra group, which makes tractors and vehicles. Aspiration Energy put up a 563 kW plant on MRV's roof, agreeing to sell electricity at a price that was Rs 2.80 per kWhr cheaper than grid power, with a 3 percent annual escalation clause but with the stipulation that the rate would always be at least 50 paise cheaper than grid power. The savings for MRV have been huge. Yet other satisfied CleanMax customers include Chennai Metro Rail Ltd and Hitachi.
According to Hines, India's solar market is booming. To date it has been made up primarily of large, triple-A rated companies, but the government is also coming on board; it plans to tender an offer for the installation of 5-7 GW of rooftop solar capacity during the next few years.
The opex model would also be ideal for the country's 50 million small-and medium-sized companies, but solar providers are still wary of this market because of doubts about credit-worthiness. "It's a big market, but solar companies will approach it only after the potential of large companies has been exhausted," said Vikram Dileepan, founder of Solar Town, which has installed more than 200 rooftop solar systems.
Another potential market is solar heating. Companies are now realising that solar is a cheaper option whenever their heating requirements are below 80-85 degrees C. Wheels India, which makes wheels for vehicles, used to consume a million litres of furnace oil a day at an estimated annual cost of Rs 20 crore (about $3 million). Solar heating has reduced cost by 10 percent. What's more, Wheels India did not have to spend anything on solar installations; it simply pays Aspiration Energy 70 percent of its savings for five years.
Aspiration Energy founder Thirumalai Bhuvarahan said the solar heating market, estimated at about 200 GW, is definitely opening up. It used to be much easier to meter and bill electric energy than heat energy, and maintaining heat energy systems has traditionally been more difficult. "But all that is changing," he said.
Thanks to the fortuitous confluence of all these developments, switching to solar is not just good for PR, it's good for the bottom line. And if there's one language that companies are proficient in, it's the language of money.
ramesh.m@thehindu.co.in