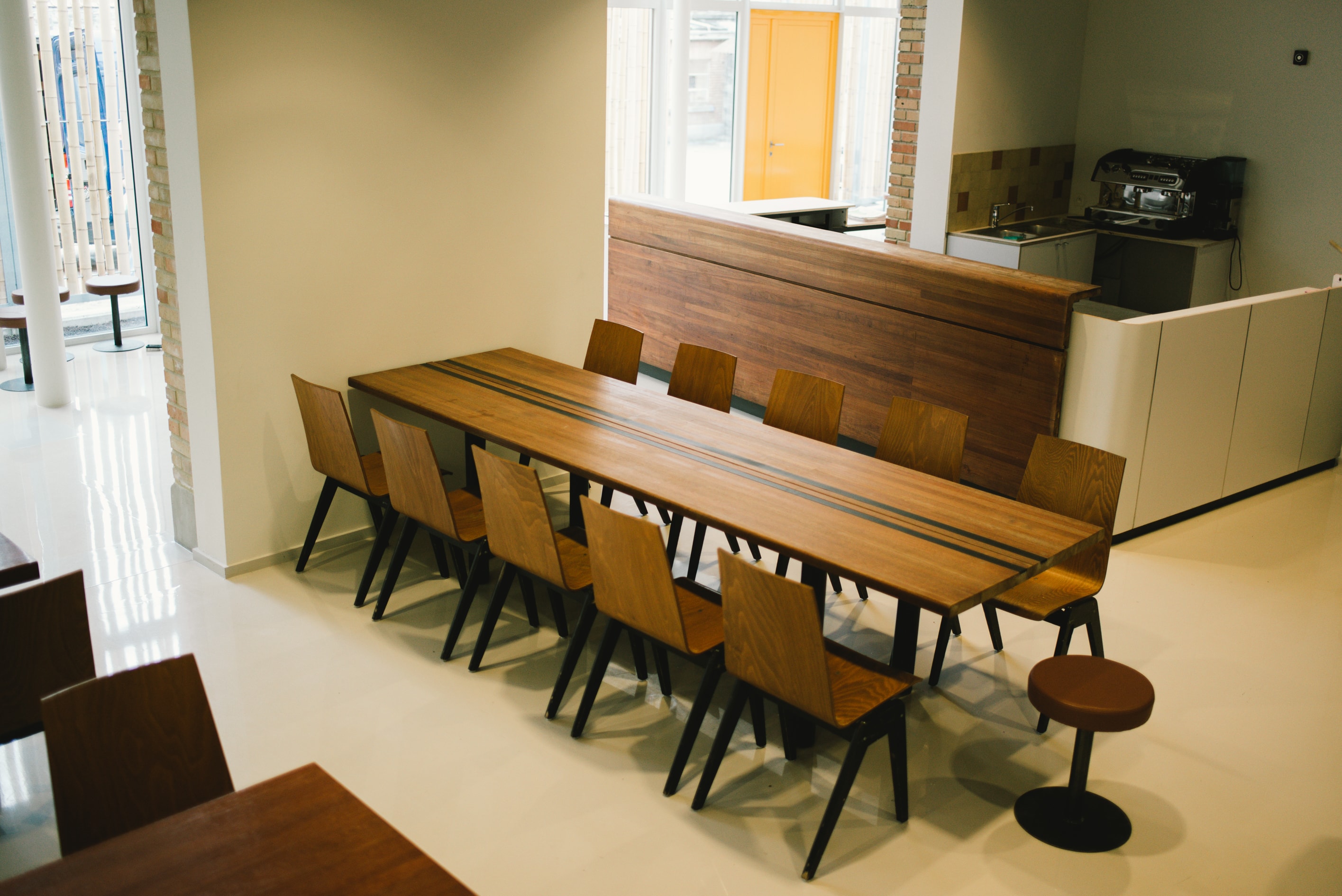 A New Spin on Demolition
Rotor Deconstruction is a scrappy Belgian startup challenging the construction waste status quo
What do a light-diffusing dropped ceiling, fiberglass subway seats and a solid oak door with finely carved details have in common? They have all been salvaged and sold by Rotor Deconstruction, a small Belgian venture that is trying to change the way the construction sector treats demolition waste.
Rotor Deconstruction dismantles commercial buildings in and around Belgium, assesses the reuse potential of materials within, and sells what it salvages to the general public through an online store and a shop in Brussels.
"We are not like a building supply shop," said Rotor's project manager, Lionel Billiet. "What we offer is a curated selection of elements from buildings."
The five-person startup is the offshoot of a nonprofit social cooperative called Rotor, created in 2005 to promote and facilitate the reuse of building components, among other activities.
Thanks to the collective's expertise in demolitions and renovations, it identified a gap in the market. While dealers of secondhand materials generally focus on selling pre-war antiques that end up in people's homes, few try to sell elements that come out of large or tertiary post-war buildings. As a result, these wind up in waste containers.
The EU has set a goal to reuse or recycle at least 70 percent of non-hazardous construction and demolition waste by 2020. Heavy and voluminous, it accounts for as much as 30 percent of all waste generated on the continent. Currently, some European countries recycle or reuse as little as 10 percent.
And though the lion's share of construction and demolition waste is inert material such as concrete, a niche company such as Rotor Deconstruction also has a role to play. This is especially true in a city like Brussels which, according to Ambroise Romnée of the Belgian Building Research Institute, "increasingly aims to renovate buildings, not demolish them." Formally set up as a for-profit company last year, Rotor Deconstruction has grown from four salvage operations in 2013 to some 31 tenders in 2016, with hopes of exceeding 40 by the end of this year.
Rotor Deconstruction has gutted buildings owned by the University of Ghent, salvaged items from Belgian banks, reclaimed elements from the chemical company Solvay, real estate operator Befimmo, even Antwerp City Hall. Though Billiet declined to reveal numbers, he said the startup is making a small profit. Its revenue consists of demolition operations (priced per tonne) and the sale of salvaged goods.
The company operates out of a former chocolate factory in the Anderlecht district, a building which in four years time will be demolished and turned into housing by a developer—an irony not lost on these recycling entrepreneurs.
The repurposed factory also operates as Rotor Deconstruction's store, and is a veritable curiosity shop for all imaginable types of furnishings and fittings from the 1930s onward. One section contains lamps and lighting fixtures, another shows off ceiling tiles, while a shed outside contains racks filled with dozens of bathroom sinks. There are door handles, hooks and hinges in plastic bags stamped with Rotor Deconstruction's logo (ideally, the company would like to brand some items and sell them in hardware stores). Among the wares are a few gems for sale, such as a coat rack by Joseph Moutschen or a standing desk by Christophe Gevers.
Each object is thoroughly inspected for quality and an acceptable level of wear and tear—a single crack in a sink means it won't make the grade. Rotor Deconstruction cleans every item and upgrades older electrical components with new cables and sockets. In general, the company concentrates on non-structural or mechanical elements that present little risk, shying away from items such as sprinkler systems.
Rotor Deconstruction's wares appeal to architects and designers who understand how to intelligently integrate them into small or medium-scale projects. They have made their way into offices, homes, cultural centers, restaurants and cafes. Anybody can buy them, since they are available in quantities from single units up.
Billiet estimated that Rotor Deconstruction sells 85 percent of what they salvage, because their selection process is so refined. « We use a set of criteria to choose the reusable elements, but from time to time we have a feeling for something »—like that dropped ceiling from a bank's headquarters, consisting of vertical plates the size of Belgian 200-franc notes. Whatever they cannot sell is sent for recycling.
Billiet also pointed out that Rotor's office itself is furnished entirely with reclaimed elements, in an appealing style that might be described as industrial chic. "Everything you see here," he said, "even the kitchen equipment and the doors, is taken from other buildings."
http://rotordb.org/