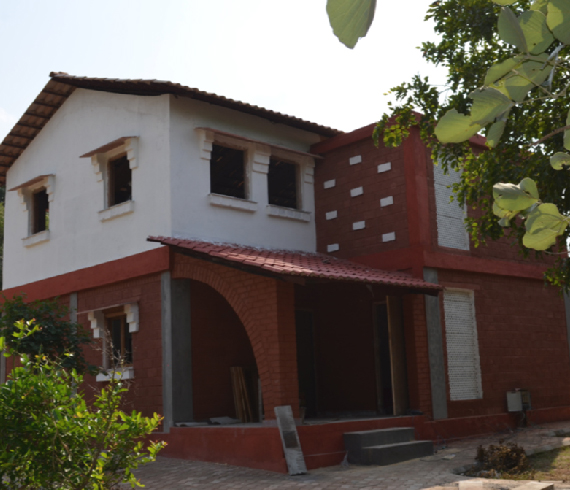 Cementing a revolution
A viable, sustainable alternative to heavily polluting cement lowers greenhouse gas emissions during the production process
As a $2-trillion- plus economy growing at above 7 percent a year, India has a gargantuan appetite for a variety of commodities. As borne out by the construction boom that is manifest across the country, it is also the world's second-largest manufacturer and consumer of cement, next only to China.
The cement production process releases greenhouse gas emissions, both directly and indirectly. "A lot of carbon dioxide (CO 2 ) is emitted from burning fuel and the conversion of limestone to oxide during cement production," notes Ravindra Gettu, Professor of Civil Engineering and Associate Dean of Industrial Consultancy and Sponsored Research at the Indian Institute of Technology, Madras.
From a climate change perspective, this is a disaster waiting to happen. The search for alternatives has led to the pathbreaking technology for the development of Limestone Calcined Clay Cement (LC 3 ), an alternative building material that lowers CO 2 emissions and energy consumption. It is cheaper to produce, requires low capital investment and has the potential to become the best sustainable substitute for Ordinary Portland Cement (OPC) or the fly ash-based Portland Pozzolana Cement (PPC).
In India, pilot production of LC 3 was completed in January 2015. Today, two buildings constructed with LC 3 and LC 3 -based building materials bear testimony to the technology : the Swiss embassy in New Delhi, and TARAgram Orchha near Jhansi in central India, which houses an office of Development Alternatives (DA), one of India's oldest social enterprises that focusses on sustainable development.
DA collaborated on an LC 3 technology development project with Switzerland-based École Polytechnique Fédérale de Lausanne (EPFL), which conducted the initial research.
"LC 3 is now about to be certified, standardised and produced commercially – in India and in countries across South America, Africa and Asia," says Vaibhav Rathi, Deputy Manager – Environmental Management, at DA.
But what exactly is LC 3 , and why does it have anyone concerned about climate change excited ?
LC3's unique selling point is its composition: 50 per cent clinker; 30 per cent calcined clay, 15 per cent limestone and 5 per cent gypsum. The clinker content is about half as much as in OPC (which has 95 per cent clinker), but the 'secret sauce' is calcined clay, which is waste china clay abandoned by mine owners for its poor quality.
To produce LC 3 cement, this waste is calcined at 750-850 degrees Centigrade; a process which requires half the energy used for clinker production and can be carried out using existing rotary kilns.
The limestone used is again of low grade, and can be substituted by waste material from marble and kota stone, a fine-grained variety. DA and IIT Delhi are carrying out extensive research, which, if successful, will make productive use of the 7 million tonnes of marble sludge waste generated every year in Rajasthan alone.
Produced in a similar manner as commercial cement, LC 3 is stronger than both OPC and PPC. Its production process accounts for 30 percent less CO 2 emissions than OPC and 11 percent less than PPC.
The research team has conducted LC 3 life-cycle analyses at two large cement plants. "We have moved from the lab stage to the pilot stage, and the feedback from companies is good," says Rathi.
"This is an important material, but it will take time to perfect," says Shashank Bishnoi, Assistant Professor at the Department of Civil Engineering, IIT-Delhi.
As part of its research, the LC 3 team has resource-mapped china clay availability in Rajasthan and Gujarat. An interactive GIS-based map provides details of the mine, its owner and the quality of raw material available. This could provide crucial information for Indian cement firms looking to turn to cleaner technology.
As a sustainable, viable alternative to cement, LC 3 has enormous potential. "It can be easily replicated anywhere in the world, wherever china clay is available in abundance," notes Rathi.
By Preeti Mehra, Associate Editor at The Hindu Business Line, New Delhi, India
Email: preeti.mehra@thehindu.co.in
HP: +91 9841263321
Contact detail of Organisation :
Raghavan Srinivasan, Editor at The Hindu Business Line, Chennai, India
Email: raghavan.s@thehindu.co.in
HP: +91 9958583705