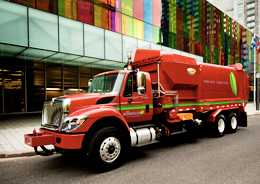 Description: The transport sector is responsible for more than 13% of total GGE worldwide (2004). Canada has committed to reducing carbon emissions by 17% for 2020, compared with 2005 levels. This objective means a reduction of 34 megatons of carbon in the transport industry. Effenco, headquartered in Montreal, has developed technology which enables a reduction of between 18 and 30% of the GGE of municipal waste-collection trucks which are powered by diesel. Effenco's technology enables the trucks to switch off their engines when statoniary. Electrical equipment is then used to activate the trucks' other functions, including at the back of the trucks where the waste is stored. This technology is currently being used in the USA (in NYC) and in the UK. Effenco also has plans to implement a pilot project in Singapore.
Maturity of the project: Commercialisation. 
Why do we love it: Effenco's technology for reducing GHG emissions from garbage trucks has strong potential in cities around the world. 
Check out the video!