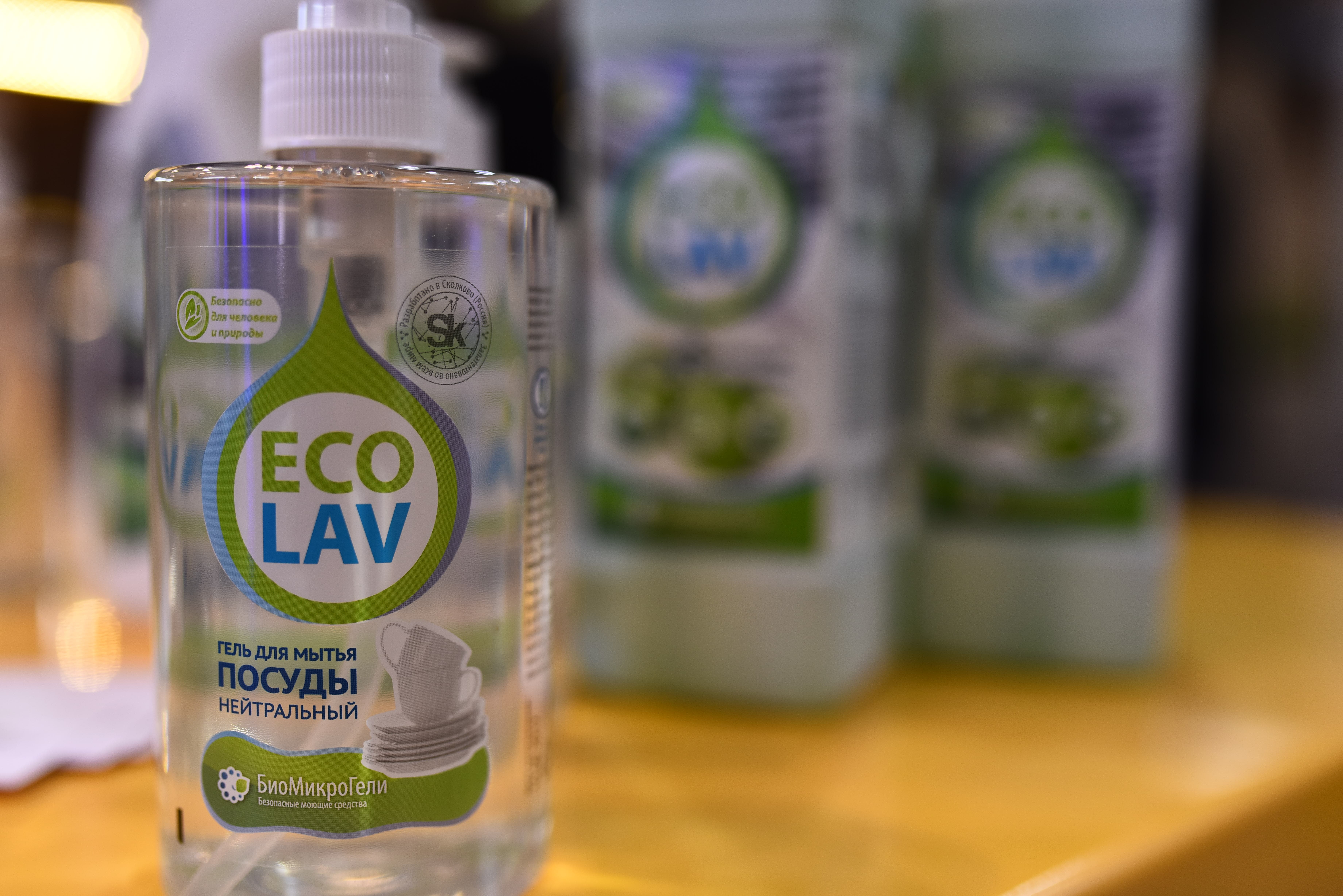 A flower power detergent is cleaning up Russia's dirty waters
By Angelina Davydova
A Russian startup has developed a new microgel-based technology for environmentally-friendly detergents for everything from washing-up to industrial oil spills.
A group of Russian scientists from the city of Yekaterinburg have developed micro-cleaning products made from natural ingredients such as apples and sunflowers. Launched in 2012, BioMicroGel manufactures eco-friendly products that can clean everything from household germs to oil spills.
The products can help to fight water pollution, a major issue for Russians who claim to have the world's second largest resource of fresh water after Brazil. According to a 2016 government report, the country has approximately 3,000 cases of extreme water pollution each year.
"In 2015 only 11 percent of all Russian wastewater was properly treated and cleaned, 19 percent wasn't purified at all, and the remaining 70 percent was insufficiently treated," said Renata Borodkova for the federal action program Water of Russia.
The main sources of Russia's water pollution are industrial discharges (often illegal), agricultural run-off, ill-equipped municipal sewage systems and dilapidated infrastructure.
Russia is also one of the world's leading oil exporters yet doesn't lead the way in responsible practice. The country's Ministry of the Environment reported that up to 1.5 million tons of oil products could be leaking into the Arctic Ocean every year. Greenpeace Russia estimates that this results in a financial loss of around 280 billion rubles (US$ 4.8 billion).
"Seeing what's happening in Russia and elsewhere, it's obvious that we have to find ways to decrease our environmental impact over local ecosystems, » said Andrey Yelagin, an engineering graduate who created BioMicroGel with some of his friends.
Maxim Mironov, BioMicroGel's head of R&D, explained, "searching for ideas, we looked at the pharmaceutical sector where special reagents encapsulate active substances with a sub-micrometer coating in order to deliver the drug to the body organ and then dissolve. These reagents can switch from a liquid to jelly-like state." The team decided to experiment with this substance and called it microgels.
BioMicroGel designed special microgels based primarily on natural materials such as cellulose and pectin from apple pulp and sunflower heads. The microgels cover pollutants with a polymer film, effectively binding them together so that the jelly-like mass can easily be removed from water. After passing through sewage systems to open waters, biomicrogels dissolve in just a few days.
Mironov considers BioMicroGel to be unique and said it has received more than 20 patents in 19 different countries. The startup garnered support from the Skolkovo Fund in Russia and was the first Russian business to reach the 2016 finals in the Mass Challenge international startup accelerator.
"We began by trying to work in the B2B sector, concentrating on the problems of industrial water pollution with heavy metals and oil, » said Yelagin. « So far we have carried out a project with the Ural Mining and Metallurgical Company where we successfully cleaned the heat-exchange equipment with biomicrogels. »
In 2014, the company began to use the same technology to produce eco-friendly home detergents for the consumer market as much of Russia's water pollution originates from phosphates in home cleaning products. The phosphate's run-off leads to eutrophication—an excessive growth of algae whose blooms slowly deplete the water of oxygen, killing marine life and aquatic plants. In Southern Siberia, on the banks of Lake Baikal (one of the world's largest freshwater lakes), the extensive use of phosphate-based cleaning products by locals and tourists has been named as one of the primary causes for the invasion of harmful algae.
At present, BioMicroGel produces around 60 tons of household detergent, delivered across 15 regions of Russia. Originally selling it via online and offline retailers that specialize in eco-friendly products, the company has now expanded into big retail chains.
The Russian sector for environmental home care products is growing, said Yulia Gracheva from the NGO Ecounion, which provides eco-certification for Russian producers. With government plans to introduce the first ever restrictions on the amount of phosphates used in home care products, the sector for green detergents should grow further, with an estimated worth of 9 billion rubles (US$ 331,000,000). It seems that with the help of a few apples and sunflowers  BioMicroGel could be looking at a very fruitful future.
http://biomicrogel.com/