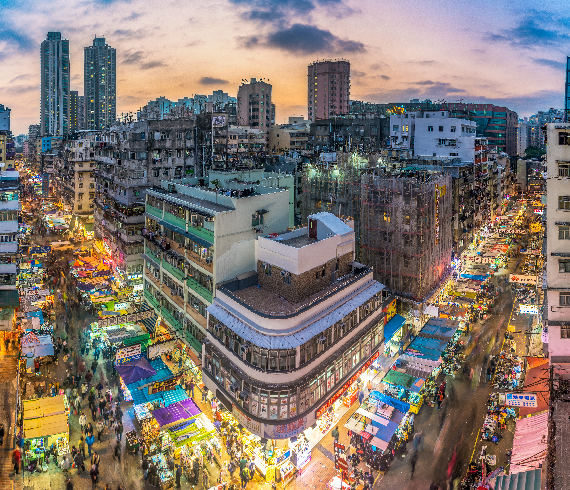 Hong Kong takes steps to cut food and glass waste
Hong Kong, with a population of 7.1 million living on only 1,104 square kilometers of land, is urgently seeking to reduce its solid waste, particularly food and glass. In 2014, nearly 10,000 tonnes of waste ended up in landfills per day, according to the government's Environmental Protection Department. Decomposable waste, mainly food scraps, accounted for 42.5 percent, while metals, paper and plastics represented 42.3 percent.
Around 73 percent of putrescibles, or organic materials that decay through the action of bacteria and fungi, came from domestic sources. So to achieve its goal, the government is considering imposing a solid waste charge, based on the quantity of waste produced.
Pending its implementation, the government is trying to reduce food waste through public education.
In 2012, the Environment Bureau set up a Food Wise Hong Kong Steering Committee, which aims to promote community awareness of the city's waste management problems and coordinate efforts within the government and public institutions to lead by example.
The following year, the committee created "Big Waster," an animated character with a bad habit of wasting food. Public response to the campaign has been positive; people can now be seen trying to avoid buying or ordering excessive food.
Last year, the committee launched a Food Wise Eateries Scheme with about 450 restaurants showing their support for a "food wise" culture. According to the government, the outlets have reduced food waste by 5 to 10 percent so far. Nonetheless, Wong Kam-sing, Secretary for the Environment, said a significant cut in waste reduction will only be seen after a solid waste charge is imposed.
Apart from food waste, another huge waste management problem confronting Hong Kong is the large number of glass bottles in landfills. Glass waste does not offer economies of scale for recyclers, so they have no incentive to collect the material. In 2014, about 74,000 tonnes of glass containers were discarded, and only 11.4 percent of them were recycled.
In May 2016, the Legislative Council passed a bill allowing the government to charge manufacturers HK$1 for every one-liter bottle they use. The new levy, effective from 2018, is expected to push soft drink and beer makers to reduce the use of glass bottles and shift instead to plastic and paper containers. The fund will be used to support the glass recycling industry.
— Contact us at english@hkej.com
By Jeff Pao – Chief Reporter at EJ Insight, Hong Kong