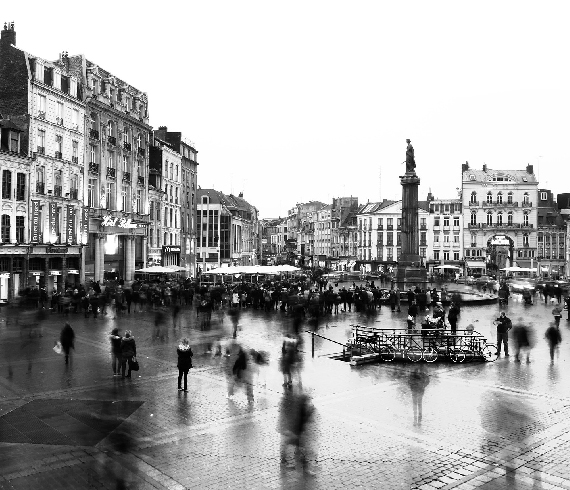 Northern France : testing the Third Industrial Revolution on a large scale
150 years of industrial history have left visible scars on the landscape in the North of France
The Nord-Pas- de-Calais region has long represented a counter-model of sustainable development, as evidenced by its socio-medical statistics (among the worst in France) and its mediocre air quality. A situation ripe for improvement. In 2013, Nord-Pas- de-Calais decided to take a new and daring step, under the aegis of American economist Jeremy Rifkin – the theorist behind the Third Industrial Revolution. The region is the first in the world to adopt a plan for an accelerated transition to a decarbonised economy. The conseil régional (regional council) and chambers of commerce are guiding this ambitious transformation under the guidance of former Minister for Agriculture under Jacques Chirac, Philippe Vasseur.
Three years on, the political right has taken over what is now the wider Hauts-de- France region encompassing Nord-Pas- de-Calais and Picardy, and the former president of the regional Chamber of Commerce and Industry is now commissioner for the industrial revitalisation of the region.
However, the Third Industrial Revolution strategy – renamed Rev3 – is still set to go ahead.
Financial support is being provided by a 50 million euro investment fund; formed by theDeposits and Consignments Fund, the European Investment Bank and Crédit Agricole, and via dedicated savings accounts for ordinary citizens, through which individuals can assign funds to these public projects. "The momentum is high, and the Picardy region is heavily involved. We currently have around 400 projects," says an enthusiastic Philippe Vasseur.
Méthania, for example, is a programme supported by various public agents, and aims to make the region number one in Europe when it comes to methane injection, due to its very rich deposits of natural gas from organic waste originating from industrial, agricultural and urban sources. The plan is to increase the number of new methane digesters by 4 or 5 per year, then by 10 to 15 from 2020. The establishment of a world-renowned research cluster on agro-based materials in the Villeneuve d'Ascq municipality (part of Lille metropole), is also being considered; an addition to the existing Matikem and Pivert innovation centres.
Smart electrical grids are another focus of the strategy. The city of Lille was selected through a call for projects for its "You & Grid" programme, which involves around a dozen complementary projects that aim to test, on a large-scale, a new energy model based on localised production (including wind turbines in the Somme area) and the use of an intelligent network. This system will track the whole supply chain (and any intermittency problems) from production to people's homes, using connected metres. "The core consists of an urban zone of around 200,000 inhabitants. This is where we want to put a system of networked metres in place, as well as water and heat networks, not separate and specific to each utility, but in an integrated manner," explains Mathias Povse, regional director of the French electricity distribution system operator, ERDF.
Aside from these core projects which are reshaping the region, the Third Industrial Revolution is also reflected in the numerous and varied initiatives that have started to spring up: from a hydrokinetic turbine that uses membrane technology in Boulogne-sur- Mer to the creation of  'green-neighbourhoods'.
One example is Cmabulle, an app that helps groups of parents share the transport of their children on a rota basis, whether travelling by car, public transport or on foot but as a safe, closed group. Supported by the regional start-up Flexineo, Cmabulle was among the national winners in the "100 projects for climate" programme and is supported by ADEME (French Agency of Environment and Energy Management) and the region, through its platform "i-viaTIC" for innovative ideas related to mobility. Having been tested over the last two years among 500 families, the application is set to cover a wider area from September 2016.
After an initial boost from the public sector, the Third Industrial Revolution is now clearly winning hearts and minds in the business world.
By Olivier Ducuing – Les Echos, France