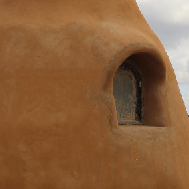 Eco-Dome : building ecological 'houses of tomorrow' in rural Morocco
A Moroccan start-up, Eco-Dome, is working to create inventive and innovative housing opportunities thanks to traditional materials. Using a mixture made from 90% earth and 10% cement, each construction takes the shape of a dome. Both environmentally friendly and resistant to natural disasters, these houses cost less than reinforced concrete alternatives. The advantages of these domed houses are multiple: they are soundproof and offer thermal insulation, as well as reduced CO² emissions of up to 64%. Construction time is also reduced.
Stéphanie JACOB – L'Economiste (Morocco)
Read more on L'Economiste (in French).